AutoAuto Wash is proud to announce a new partnership with Diamond Shine. A recent acquisition of Sonny's, Diamond Shine offers a wide range of car-care products.
Diamond Shine sets a high standard of excellence and product innovation. Their staff are constantly evaluating new chemistry and dispensing systems to ensure maximum performance and value to car wash operators. These advances in technology have increased the range of soils removed from vehicle surface and have dramatically increased the shine and overall appearance of the vehicle. Diamond Shine is delivering more satisfied car wash operators and car wash customers.
Contact us today to to learn more about the Diamond Shine's groundbreaking chemical solutions.
---
The Bullseye System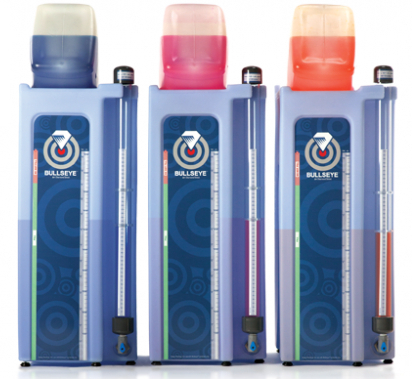 Diamond Shine has set themselves apart with one of the most innovative chemical storage solutions to ever hit the market.
The Bullseye System was built for accuracy, convenience, and safety.
The cost measuring sight tube allows instant, cost-per-wash analysis and on-tank rulers provide volume measurement at a glance.
The vertical design saves space in your back room and is specifically designed for easy maintenance.
Utilizing smaller, sealed, 2.5 gallon packaging, exposure and lifting risks are vastly reduced.