June Product Spotlight – MacNeil In-Bay Express Wash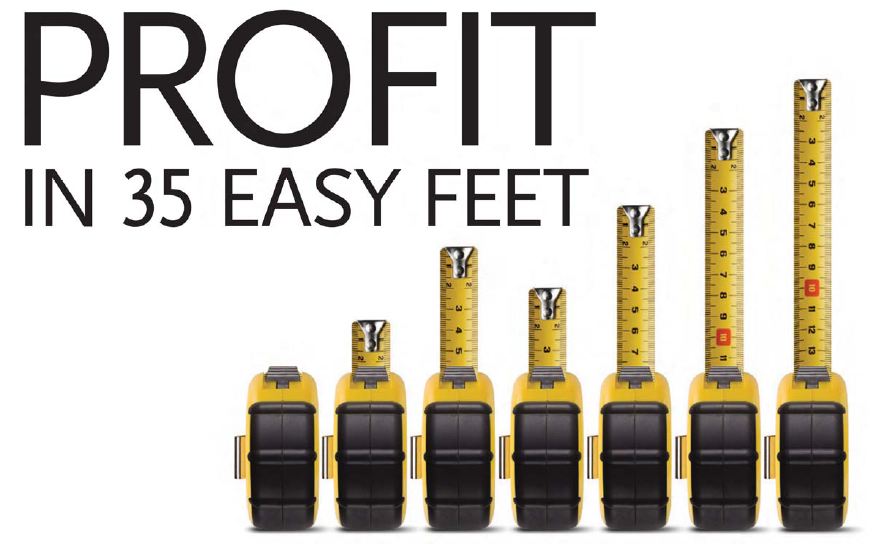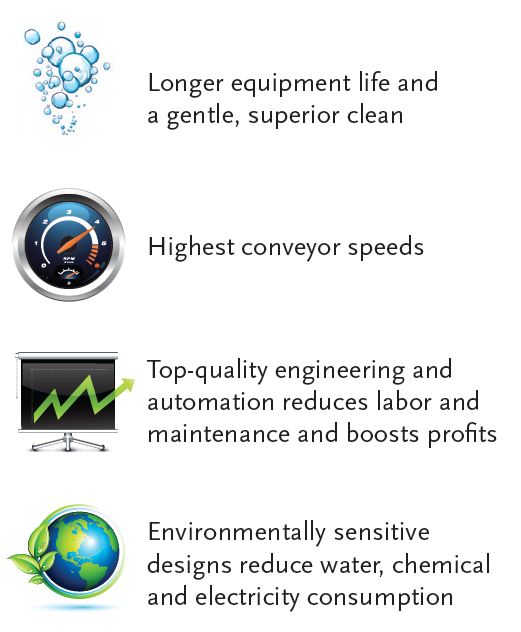 If you've got 35 feet or more, and an under-performing wash bay, then you've got what you need to convert to a profit-producing, affordable mini tunnel. MacNeil's complete In-bay Express Wash Conversion system packages together all the industry-leading MacNeil components you need, and optimizes them for the smallest footprint. You won't find a system this small that performs this well!
Out-of-the-box conversion requires as little as 35′ of bay space
Triple your volume to as high as 50+ cars per hour
Go head to head with express tunnels in your market
Pump up the profits with Wheel Cleaning and Tire Dressing Add-ons
Cut installation costs with minimal downtime and little or no site changes
Save even more through reduced water and chemical consumption
Built to last on MacNeil's rugged, industry-leading conveyor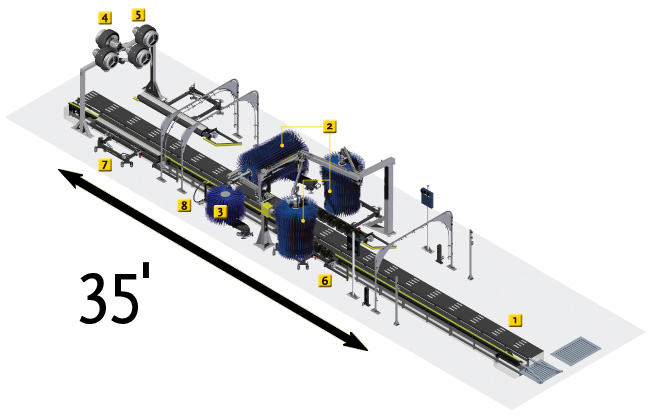 Express Wash is made up of the best parts:
RG-440 Conveyor – The MacNeil RG-440 Conveyor is known for being ahead of the times, setting industry standards and making operators' lives safer, easier and cleaner. Now available in electric drive with MacNeil's Variable Frequency Drive (VFD) technology, the RG-440 offers the same great performance with precise control for energy savings, pit-free adjustments and quiet operation.
Wrap-around Top Brush Combo RS-680 – MacNeil equipment is designed to provide effective cleaning, with minimal maintenance and lower long term operating expenses. There are many unique features built into the design of our equipment, all providing you with a competitive advantage.
RS-400 Side Washer – MacNeil's powerful side washer packs more cleaning power into less space with excellent wash consistency and controlled cleaning pressure. It targets the lower regions for superior cleaning performance, while gentle Envirosoft® foam permits higher rotational speeds for the cleanest wash.
Tech 21 Dryer –The Tech 21 Drying System is fully customizable to best meet the needs of each car wash, and to fit varying space requirements. The cone of each producer is engineered to provide concentrated, direct air flow for efficiency and superior drying results, and can easily be adjusted for optimal positioning without moving the housing. In fact, because of its concentrated air flow and advanced design, a MacNeil 10hp dryer produces almost as much air as other 15hp dryers.
Power Locks – The PowerLock is a lightweight air valve that mounts to the fan inlet of dryers. By restricting air flow between vehicles, it allows the fans to continue operating whiledecreasing dryer motor horsepower by over 50%. This extends the dryer lifespan and significantly reduces energy levels when engaged. It stops air flow instantaneously, so it can be used between vehicles where VFD drives require time to ramp up and ramp down – saving you power and money in between each vehicle.
Wheel Boss – No other wheel cleaning system has conquered the unique challenges of wheel and tire cleaning likeWheel Boss. This all-in-one system gets in deep to scrub rims and tires to a sparkling clean that brings satisfied customers back.
Gloss Boss – Don't get rubbed the wrong way. Gloss Boss takes a superior approach to messy, wasteful and costly chemical rub-on tire shining systems. Its patented precision chemical application system produces the shiniest tires with the lowest waste.
Magnum Wheel Blaster – Offered in 3, 6, or 9-nozzle models, the Magnum Wheel and Side Blasters are simple to install and can easily be adjusted by hand. The MacNeil no-leak ball swivels allow infinite nozzle adjustment for the best possible positioning. The Wheel and Side Blasters can be used with fresh or reclaim water.