AutoAuto Wash is proud to be the only distributor of Stinger Chemical in Colorado. This impressively economic line is sure to provide the perfect balance of cost and cleaning power to your wash.
Stinger Chemical is one of the fastest growing automotive chemical companies, manufacturing a complete line of automotive service and aftermarket chemicals for the car care professional. Stinger is committed to being an innovator for the car care professional by utilizing state-of-the-art equipment and a manufacturing process to ensure quality products.
Contact us today to get your questions answered about the Stinger product line.
---
Smart Base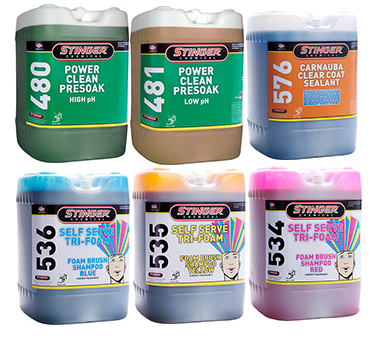 Stinger is putting chemical customization directly in your hands. The smart base chemistry line contains seven different components of highly concentrated products to create your own custom chemistry.
Builders – High pH, low pH, a blend of cleaning surfactants and foam-base concentrates.
Sealant – Loaded with Polymers & Silicones for unbeatable protection and shine.
Colors – Red, yellow, blue, orange, and green.
Fragrances – Banana, cherry, vanilla, lemon lime, and fresh citrus.
Water Softener – Softens your water on site in the RTU solution.