Written by John Lenz, Senior Account Manager
SuperSat and SuperBlend Products
Blendco systems was started over 40 years ago with the premise of simplifying the soap process. Their approach is to super saturate the alkaline powder in an automatic system, and blending it with separate surfactants. Since most alkaline based soaps are 18% active at best, this means that you are buying a whole lot of expensive water.  80% + of your barrel soap product is water!  So why ship water when you can save that money and put it back in your pocket?
Blendco's theory is to use your water on site, and ship 100% active solutions, then custom blend at each individual car wash. They separate the alkaline from the surfactants, therefore giving the operator the option to control strength, color, show, fragrance, and most importantly cost.  Doing this allows you the operator to adjust the strength of product with cleaning conditions.  IE: winter months versus summer months.  In these hard economic times, everyone is looking for ways to save somewhere.  With the Blendco line of products, you can achieve strengths of alkaline based soaps that few other manufacturers can.  In most cases, Blendco can be 30-50% less on soap costs if we match strength for strength, meaning if your alkaline soap tests at 10 drops of alkaline strength, Blendco will be less at that same 10 drop strength. We measure this by titrating the soaps, a unit of measure to determine the strength of the soap, whether alkaline or acid.
AutoAuto Wash has embraced this strategy and invested in authorized Blendco blending facilities in Albuquerque, NM; Denver, CO; Grand Junction, CO; and Farmington, NM/Durango, CO.
We now blend an inexpensive "Ready To Use" 5, 15 or 30 gallon container products that outperform most other brands, with pricing lower than even the catalog brands. This was developed for the "low cost per pail" operator, who still wants good results.  We have a full line of self-serve products including presoaks, tire cleaners, foam brush, hi-pressure detergents, waxes and supersealants.  All have amazing show, color, fragrance, and performance, all with a low price point.
Let us show you like we have for many operators already, the Blendco difference.
*For a FREE analysis of your wash, so you can see the difference and save $$
Call John E Lenz @ 303-918-3026, or Drew Tucker @ 720-670-7161.
The SuperSat System
A whole new road to better cleaning
Fully Automated
No mixing or measuring
Highly Economical
SuperSat detergents are 100% active, and by using water on-site, the costs are well below other detergents.
Delivers Strong Cleaning Power
Two component system delivers the strongest cleaning power on the market.
Puts On Quite a Show
SuperSat surfactants are customized for each application and provide cleaning, solvency, color and foam.
Pays Dividends Through Happy Customers
Customers will see the difference in cleaning
SuperSat Explained – An Overview of the Process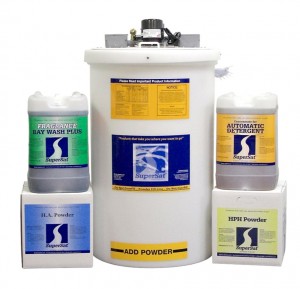 Blendco's patented SuperSat Custom Detergent System is an ingenious two-component detergent process that delivers powerful cleaning performance. The SuperSat unit automatically mixes our specially formulated detergents on-site using your water. The SuperSat system allows detergents to be tailored specifically to suit the needs of your wash.
SuperSat is a detergent process like no other, because it can deliver 100% active ingredients without the need for fillers, binders, or water to keep often incompatible detergent ingredients in solution. By using a powdered alkaline component and a liquid surfactant component, and by keeping them separate until they are automatically mixed with water at the wash, SuperSat is able to offer outstanding cleaning power safely and economically.
Because the technology allows for the use of high concentrations of gentle cleaning ingredients (much higher than traditional formulated products), SuperSat does not rely on harsh chemical ingredients for cleaning. Instead, large quantities of the best proven alkaline cleaners can be applied to vehicles economically, allowing the detergent to clean gently and effectively.